Campers take shelter in schools after floods hit France

France Campers take shelter in schools after floods hit France
Search continues for missing man in Gard, and camper in Denmark injured during storm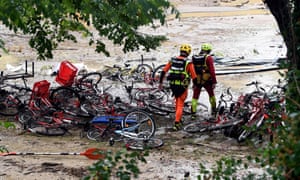 Holidaymakers have been affected by storms in France and northern Europe as rivers burst their banks, washing over parts of campsites.
About 1,600 people were evacuated from campsites in three regions of southern France on Thursday after the equivalent of several mo nths' rain fell in a few hours.
Most campers at official sites in Gard, Ardèche and Drôme had time to pack up their belongings as police calmly ushered them to school gymnasiums, where they spent the night on camp beds provided by the Red Cross.
But at a campsite in Saint-Julien-de-Peyrolas, people at a holiday club for German teenagers had to be helped to safety by police rescue teams when rivers swelled very quickly, sending waves rolling across areas where tents had been pitched.
On Friday, officials continued to search for a German man with the group who was believed to be missing.
There were reports that he was last seen getting into van that was later found empty in the water. However, the region's chief gendarme, Col Laurent Haas, said authorities were "not certain the man was actually present at the moment of the events".
Police opened an investigation into the campsite, which authorities said had not been officially approved. The leaders of the German holiday group were being questioned by officers.
Meanwhile, in northern Denmark a man was in a serious condition in hospital after being struck in the throat by a metal tent peg in high winds. Police said it was believed the 61-year-old man was packing up his tent after a motorcycle event in Thy when the incident happened.
Storms also disrupted rail services in parts of northern Germany and cut power to hundreds of homes in south-eastern and northern France.
Surveying flood damage at his activity centre in Aiguèze on Friday, Eric Nicolle said he had been woken the previous day by water shaking his caravan. "It was apocalyptic," he told BFM TV. "The water was coming in waves. There are no words to describe it."
The waters were subsiding on Friday morning and some holidaymakers were able to retu rn to parts of campsites that had escaped unscathed.
Kathryn Alford, 44, from Welwyn Garden City in Hertfordshire, who had been at a campsite in Saint-Martin-d'Ardèche with her husband and two children, said she had been scared when the rains hit.
"I looked out at one point and realised that the water level seemed higher than just massive puddles," she said. "Our neighbour's bottom step had disappeared and things were floating past."
Topics
Denmark
Europe
Natural disasters and extreme weather
news
Share on Facebook
Share on Twitter
Share via Email
Share on LinkedIn
Share on Pinterest
Share on Google+
Share on WhatsApp
Share on Messenger
Source:
Google News France
|
Netizen 24 France