Police chief stabbed to death in southern France

Europe Europe Police chief stabbed to death in southern France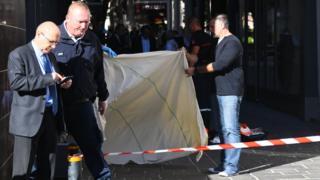 A police chief has been sta bbed to death in the city of Rodez, in southern France, outside the city hall.
Pascal Filoé was stabbed three times in the middle of the street by an individual known to police.
French radio network France Info reports that the suspect's dog was taken away from him a week ago. This reportedly led him to threaten the mayor and the police chief.
Mr Filoé died of his injuries in hospital shortly after the incident.
The attack took place at approximately 10:00 local time (08:00 GMT).
The Mayor of Rodez, Christian Teyssèdre, told AFP Mr Filoé was the father of three children.
"The attacker was known to police. He had defaced the city hall door on 11 April", she said.
Officials said emergency psychological support would be made available to staff affected by the stabbing.
A witness told La Depeche.fr website (in French) that the suspect was pursued by a employee and hid in a nearby boutique before b eing arrested.
Top Stories
Supreme Court pick and sex accuser testify
Brett Kavanaugh and his accuser face one of the most dramatic US Senate hearings in decades.
27 September 2018
Kavanaugh accuser gives evidence
27 September 2018
'Brett put his hand over my mouth'
27 September 2018
Features
The supreme showdown for Trump's America
Should US superstars fear Europe's underdogs?
The investigative website behind the Skripal revelation
Video
Washington may have had a bad past - Trump
Pregnant and breaking the law
The bizarre sport unique to Melbourne
On the trail of illegal 'beauty-cream' smugglers
Viewpoint: Risks remain for biggest ID scheme
'The moment I crossed over into a different world'
Elsewhere on the BBC
Football phrases
15 sayings from around the world
Full article Football phrases Why you can trust BBC News
BBC News Services
On your mobile
On your connected tv
Get news alerts
Contact BBC News
Source:
Google News France
|
Netizen 24 France